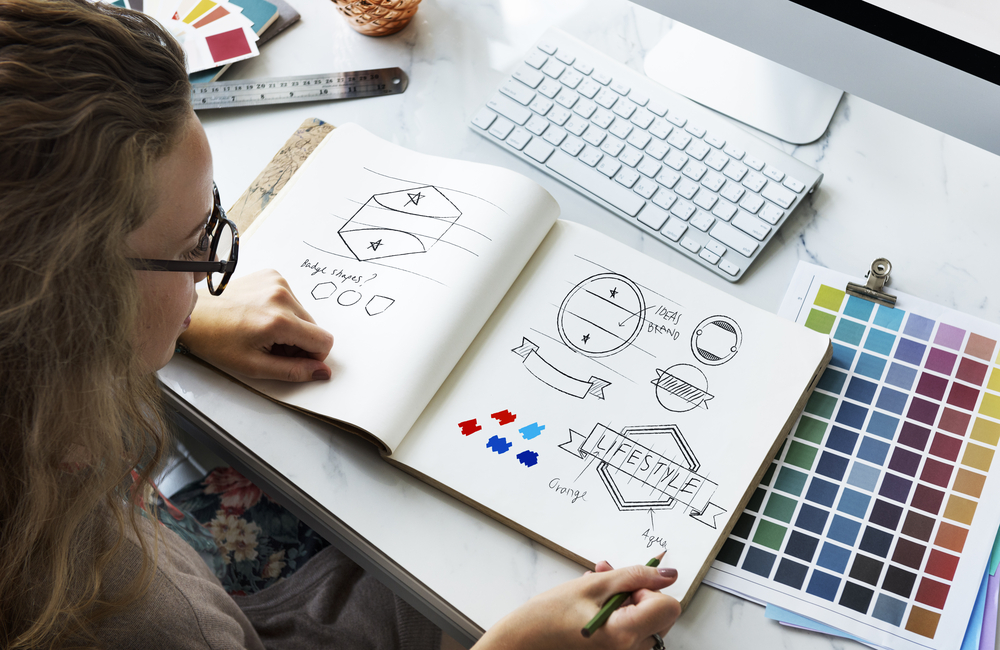 16 Apr

How To Create A Killer Logo For Your Small Business

If you're reading this, you probably plan to start a small business or a side hustle that's about to take the place of your regular full-time job and you probably have a couple of questions running through your mind. This post was created to help you bring system out of confusion so you can get the best out of your business and enter the market full force. So keep reading and don't forget to save this one to the "Bookmarks".

First of all, yes, you do need a logo. It doesn't really matter how big/small your business is. Even if you're making a craft soap and sell it to your relatives and friends. If you plan to monetise an idea, you need a logo for it. Otherwise your work, your efforts, your image and your future brand belong to everyone, like grapes at a grocery store. But most importantly, the final design you come up with should be effective enough to promote your business and get you that place in the sun. Here are a few tips that will make the whole process easier and more fun.
Get inspired
The first step to a killer logo is an idea. So start feeding your brain with new impressions and experiences. Use anything that works for you. Try hiking and gain inspiration from nature. Or visit an art gallery. Meditation, photography, action sports… In a nutshell, any kind of activity that fills you up with energy and joy may help you get that revolutionary idea.
Check the rivals
It's always useful to browse the websites (or social media profiles) of your potential rivals to not only judge their logos but to practice analysis. Do you find your competitor's logo effective or attractive? Try to think of the ways it helps the rival company to be profitable. Is there something you would change and why?
All of these questions can really help you to improve your own perception of your brand as well as the future marketing strategy. Find out what are the strengths and weaknesses of your rivals and benefit from that knowledge. Even if it comes to logos.
Create a semantic kernel
The main goal of a business logo is to create a memorable association with the brand. So it's always a good idea to think over the things you want your company or product to be associated with.
Write down all of the descriptive words you want to be a part of your brand. For example, if you're selling jewellery you probably will think of: gems, beautiful, luxurious, one of a kind, feminine, elegant, regal etc. That's how a semantic kernel is formed. And once you proceed to the designing part it will be a major asset. You (or the team you've hired) may use the semantic kernel to choose proper fonts, colours, and visual effects.
Choose the right type of logo
Sometimes the question as simple as: "What kind of logo do you want for your business?" can really baffle an entrepreneur. At best the answer will be: "I want it to be cool". Don't make a mistake like that. Take some time and choose the type of logo you feel will work for your brand.
Some more tips from our team:
Pictorial (like Nike's "swoosh" or WWF's panda). Such logos are perfect if you plan to go global as pictures don't need translation. It's also great if you'd like to convey a certain message or an emotion to your audience.
Monogram (like CNN or NASA). These are excellent for the businesses that happen to have a long name or have several owners (remember Hewlett-Packard transforming into HP?). Monograms is one of the most effective branding and marketing tools. Plus such logos are super easy to revamp, which makes lettermarks a great choice for startups.
Wordmark (like Lego or Samsung). It's the cheapest way to get the recognition that market newcomers need. Just make sure your company's name isn't too long.
Mascot (like Pringles or Uncle Ben's). Such logo can help you attract the younger generation and families. It's also a great way to encourage interaction with the target audience.
Emblem (like Converse or BMW). Emblem logos have that traditional and sometimes strict vibe about them. It can help you build the image of a trustworthy, reliable company. The only thing a business owner should remember while creating an emblem logo is to make sure the picture is print-friendly and doesn't have to many tiny details.
Combination of the types listed above (like Amazon or Dunkin' Donuts). One of the most versatile and popular types of logos. Nuff said.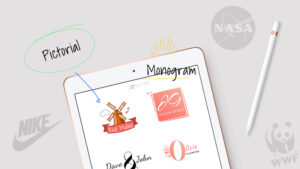 Have a look at trends
When it comes to logo design, there are and always will be several safe choices like bold and elegant black and white logos or serif font wordmarks. But if you're striving to get that killer logo, don't be afraid to cross the line and try something rebellious. Go out there and get to know the latest design trends. For example, you may experiment with the bold colours like Ultra Violet, which is the Pantone colour of the year, by the way. Or play with the typography and colour gradients.
Don't give up on sketches
You never know when brain will float an idea that's about to make you rich. So make sure you always have something to draw a sketch on (whether it's an app on your phone or a paper towel). Don't be afraid to sketch as it's a great base that you can use while designing a logo.
Try different tools
Internet has hundreds of online tools that will help you to build a logo. If you're planning to create a killer logo on your own, always make sure you're comfortable with the website or a software you've chosen. Does it have everything you need? Is it easy enough to use? Remember, if you're not 100% satisfied, you can always try something new.
And if you would like some expert help, our team are always here. We have a highly skilled team of in house graphic designers ready to help you with all of your businesses branding needs.
Test it
Once you've come up with a design you like, don't rush to put it out there. Test it on a landing page or one social media profile. Create a poll. Is it good enough? Do you want to change something? Does it coordinate with your website's design? Use the logo only if you're 100% happy with what you've done. If not, you can always make the changes needed using the same online tool or by hiring a professional designer.
Don't rush when it comes to logo creation. Remember, the final logo may determine your business success for the next decade. So take your time and make everything perfect as you can totally do it.
Related Tag: Business Apps Developers