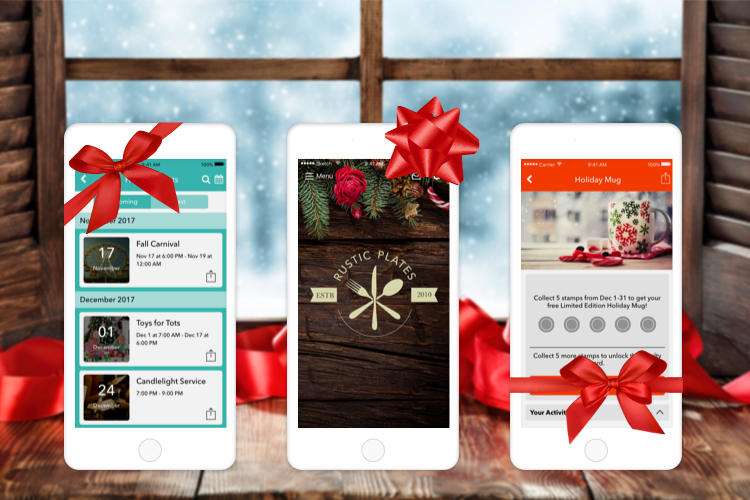 15 Nov

How To Get Your App Ready For The Holidays

How To Get Your App Ready For The Holidays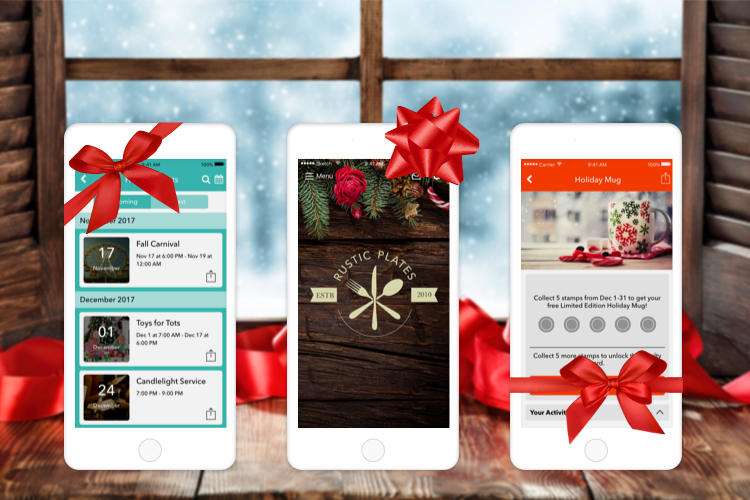 Halloween has come and gone… And if you haven't done so already, it's about that time to start planning out your business' summer holiday strategy! For anyone with an app, the holiday season is the biggest time for consumption and spending.
In fact, "this period is the "Black Friday" of the app business world… Brands are sure to see their downloads spike and consumer spending skyrocket," according to Get Response. So you shouldn't leave out your mobile app in this year's planning. You can easily and effectively put your app to work during the holidays with an App City Mobile App.
This blog post is filled with holiday app inspiration, including step-by-step instructions on how to implement it for your own app:
Give Your App a Holiday Makeover
Let's start with something simple. Give your app an easy makeover to spread the holiday joy. Think of it like this: instead of decorating your storefront with Christmas trees, you can redesign your app's main screens to have some holiday flair (or you can do both!).
Here's are some ideas:
Update your Homescreen Background with a new image, one you specifically designed for the holidays (see our Before & After example below)
Upload festive icons to give your feature tabs a holiday look
Customise the Header Background and/or Screen Background – under Custom Design – for each feature by uploading an image or changing the colour to match the ambiance
Set Up a Holiday Loyalty Program
Get your customers in the holiday spirit with a special loyalty program for the month of December/January. Allow customers to collect stamps or points to get a special holiday item. For example, you could give away a limited edition holiday mug, funny T-shirt, or festive decorations. Setting up a limited-time loyalty program will entice your customers to spend more money at your business during that month. Because who doesn't like a free gift?
Here's how you can do it:
Add a new Loyalty feature in the app builder
Name it appropriately and provide a clear description of the giveaway
Make it holiday themed by adding a special feature icon and/or header image

Send Out an Email Offer
The holidays are a great time to thank your best customers for their loyalty throughout the year. And with 69% of customers reporting they'd prefer to do their holiday shopping at businesses where they can accumulate loyalty points or rewards, it's safe to say they feel the same.
A great way to thank customers, and draw them back to your business, is with a gift card or discount. Use the email list your app has been creating based on your app user's data.* Send your loyal members a $5 gift card, for example, to use at your business that is valid through the end of the year. Or if you want to drive more customers to your app, offer special discounts that are only available in your m-commerce store.
* If you did not enable email collection in your app yet, make sure to do this as soon as possible (under the Promote section in the builder). This way you can start accumulating email addresses for next year's holiday season.
Here's how you can do it:
Export customer information, including names and email addresses, under the Promote/Email List section of your dashboard.
Craft an email with your special offer inside (whether it's an in-store gift card or a special sale in your app)
Send it out to your customer email list

Run a Giveaway
Giveaways are a great way to draw people to your app. Make sure to round up an exciting prize that you can award to one (or a few) app users, selected at random. Be sure to promote this on your social media and at your establishment; what better incentive to download an app than a chance to win awesome prizes. Don't make the contestants jump through too many hoops, a simple email form will have the best results.
Here's how you can do it:
Add a new Email Forms feature in the app builder
Name it appropriately and provide a clear description of the giveaway
Make it holiday themed by adding a special feature icon and/or header image

Host a Picture Competition  
Instead of just giving something away, you can opt to host a full-blown competition during the holidays. Research actually shows that November is one of the best months of the year to launch contests. Photo contests have only increased in popularity over the last few years, as they are both fun for participants and bring exposure for the company. With a contest like this, you can promote your app, your social media account, and your business all at once.
Make sure you think of an engaging theme for the contest – but that should be easy since there is so much to work with during the holidays. So how do you get people to enter your contest? That's simple: Provide a highly coveted prize and give participants a moment in the spotlight.
Have participants submit their photos in the app. This way you'll receive all images over email and be able to sift through them to make sure they follow the requirements. Now publish the pictures to your own social media profile, giving credit to the owner of the image. Instagram and Facebook are both great platforms for displaying user-generated content.
Even if participants don't win, they will be excited to see their submission featured on your Instagram or Facebook account. When the contest comes to a close, pick a winner by selecting the best picture of yourself or having your followers vote on their favourite one.
Here's how you can set it up in your app:
Add a new Email Photo feature in the app builder
Name it appropriately and provide a clear description of the contest, including the rules and what you will be doing with the pictures
Make sure to enter an email address that you will be checking on a regular basis
The rest of the contest will take place outside of the app, on your social media

Add Holiday Items to The Menu
This holiday idea is specifically for apps in the restaurant industry as 'tis the season for dining out! Diners are actually more likely to give their business to restaurants with seasonal options. In fact, restaurants with seasonal menu items see approximately 26 percent more orders and a 23 percent increase in average ticket size over other restaurants. So sit down with your team to create a unique menu for the holidays – think pumpkin, peppermint, butternut squash, turkey, spiced apple cider, champagne… Make sure to add all these new items to your app's (mobile order) menu, so that current customers don't miss out on these limited-time items.
Tip:  If you aren't in the restaurant industry, you can still add a selection of holiday-themed items or holiday-themed special in your app.
Create a Holiday QR Code
A couple years back QR codes were said to be dying, yet here we are in 2017 and QR codes are "cool" again. According to Mashable, "Facebook and Snapchat, two of these most-frequently-used apps, are pushing a present and future of QR codes." Especially with the new iOS11 release, iPhone users can scan QR codes directly from their smartphone camera app – no need for a separate QR Scanner.
Now with the rise of Progressive Web Apps (PWAs), you can combine both pieces of technology to expertly market your business. Unlike native apps, PWAs allow you to directly launch a customer into your app from a QR code. You can even send customers to a specific feature within the app! So don't miss out on this opportunity to market your business during the holidays. You could create a holiday QR code that sends your customers directly to the Events calendar, so they don't miss out on any special events. Or you could send customers to an Info feature about the specials you are running. The possibilities are endless here!
Here's how you can do it:
Under the Promote section, set up the Promotional Kit to create your branded promotional material
Use the Edit function to add a QR code for a Web App and pick a specific feature the QR code will send your app users to
Bring the finalised flyer to a print shop and then distribute them at your establishments
Promote Your Holiday Specials
Once you have all these great specials in place, you will have to promote, promote, promote. Besides using social media and word-of-mouth to do this, you can use the News feature to promote your holiday specials on your app's home screen!
Here's how you can do it:
Add the News feature in the app builder
Choose Custom News Service and select Add New Headline to fill in custom content for the news ticker (see example below)
You can even provide a Hyperlink URL or link out to a specific feature in your app depending on what you are promoting

To Wrap It Up
A mobile app can be a very powerful tool during the holidays, as people are willing to splurge and are to trying new things. Even though it can take many months of planning to set up a full-blown holiday strategy, you can easily implement these holiday tweaks on our platform in a matter of minutes. So make sure your app is up-to-date and ready for the winter holidays.
How are you preparing your app for the holidays?
Related Tag: App Developers Australia