25 Jun

The Power of Mobile is Changing the Marketing Game

Imagine stepping into the past and telling marketers that they can now communicate with their customers anytime, anywhere, and at any budget. Not only can you communicate with them, but customers want and expect it. Oh and by the way these same consumers will generate brand content and basically do half your job. What would sound crazy 10 years ago is so common today that we take it for granted. It's one of the most amazing times in the history of marketing to be a marketer.

Mobile technology and consumer habits are paving a new and exciting way to reach your customers. The possibilities are endless with the only limit being your creativity. These interactions are becoming even more immersive with new technologies like augmented reality and artificial intelligence. Brands are able to reach customers through authentic communication that provides value and builds trust, rather than through a giant obtrusive billboard in their face.
More People Have Access to Mobile
Today, it should come as no surprise that it's more common to own a smartphone than a desktop or laptop computer. People are more likely to go to their smartphone when considering a purchase or getting answers to their questions. Mobile devices are portable and more convenient, no matter who or where you are. If mobile is where consumers are, then that's where businesses should focus their efforts.
The Mobile Connection Is Strong
We take our smartphone everywhere we go – and let's be honest, we panic if we can't find it. We check our phone an average of 47 times a day, as it has become a vital source of information in modern day life. That alone changes things. However, not only has mobile gained rapid and widespread traction, it has also changed what people value.
Mobile technology is creating an on-demand world where consumers expect things to be delivered to them faster and more efficiently. It's creating new opportunities in almost every industry. This is possible because of the direct connection a brand has with the consumer on their mobile device. Many modern brands have relied solely on mobile to interact and transact with the customer.
Google has coined the term "micro-moments" to describe an intent-rich moment when a person turns to a device to act on a need – to know, go, do, or buy. These micro-moments are increasing and, with it, the chance to interact with your customers. This gives companies the opportunity to deliver what users are looking for and ultimately gain their business. The winner of these micro-moments will be decided based on the quality of the user's experience.
Brands need to understand the mobile customer journey and how they can be there when a customer needs something. Mobile provides a diverse way for users to interact with and consume media. For instance, video is by far the most popular format for mobile users, attracting 82% of mobile viewers regularly. Social networking and audio content follow, drawing 70% of mobile users on a daily basis. Mobile games, while not quite as popular, are still used by over half of all mobile device users.
More Ways to Deliver Your Message
Mobile has also "invented" and improved nearly every other marketing method available. There are dozens of possible channels you could use to deliver a marketing message. The following eight are the most effective on mobile and have a few distinct differences presented on mobile compared to their desktop incarnations:
Social Media – Social media and mobile are linked in quite a few ways. The manner in which their audiences grow and respond to content are very similar. The 55+ user group is growing the fastest for both of these platforms. For the most popular social media platforms, including Facebook, Twitter, and Pinterest, 80% of their most active users will primarily use mobile to connect.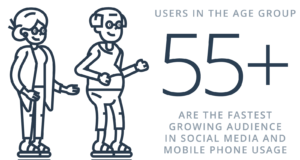 Email – Smartphones and tablets can no longer be ignored by email marketers. They represent a massive part all email interactions and revenue. Email is largely read on mobile, with 61% of email opens occurring on a mobile device.

SMS/Text – SMS is becoming a more and more popular way to reach customers. In fact, by 2020, 48.7 million consumers will opt in to receive business SMS. These messages could be appointment reminders, promotions, or time-sensitive updates. Customers are more likely to opt-in to receive messages from businesses they already deal with, and 90% of these text messages received are read within three minutes of receipt.
Video – Video is the most consumed form of mobile media. Twitter sees 90% of its video views come from mobile users. Mobile users are also 3x as likely to view a video than a desktop user.
Native and Progressive Web Apps – Mobile phone users spend 92% of their time on applications. Mobile apps done right can provide your customer with an exceptional user experience. With an app, a customer is likely to spend more time with your brand. This could be research, shopping, communication, or the use of a tool.
Push Notifications – A virtually mobile-exclusive marketing tool, push notifications are interrupt-driven and likely to get attention quickly. According to Localytics' research, "push notifications that add the most value are ones triggered by a user's stated preferences. About 49% percent of respondents said these types of notifications cause them to use an app more."
Marketing Made Personal
Mobile marketing creates an opportunity to personalise the digital experience by collecting consumer data. While data might seem intimidating at first glance, with the right tools, it is incredibly easy to tailor experiences to each individual. The goal is to understand how much your customers want to interact with your brand and on what channels.
Besides understanding customers' wants and needs, you also want to allow them to choose how they receive communications. If they only want an email newsletter once a week, they should be able to have that while others receive them once a day. The same goes for push notifications. While these are arguably the most effective tool a mobile marketer has at their disposal, they are also the most likely to be a double-edged sword. Push notifications, if unwanted, are annoying. The more relevant, the more personalised, the better.
A Seamless Experience
Done right, mobile marketing is unobtrusive. It fits right into a person's life. They can control how they interact with your brand and how much. That creates a more positive relationship. Further, through timing, tracking, and intelligent use of data, it's possible to anticipate and seek to fulfill a customer's needs before they realise they have them.

Smarter marketing efforts that capitalise on the advantages of mobile are being developed all the time. For now, better data collection, privacy protection, and personalisation efforts should be the primary focus as these have proven to be the most effective methods to grow customer relationships.
Besides the issues mentioned above, there is still something many people overlook when it comes to creating a mobile experience: mobile screens are smaller… sometimes. We are referring to the fact that not every mobile device is the same. Screen sizes vary from the sleekest smartphone models to the largest tablets. These are all classified as mobile devices. In order to create that seamless experience, adaptability (and not just from desktop to mobile) is key.
The Mobile Audience is Still Growing
With more than double the amount of time being spent on mobile than any other internet-connected device worldwide and smartphone ownership significantly outpacing that of any other internet-connected device, how much further can the mobile audience expand?
The truth is, mobile audience growth lies in two primary areas: adoption by older members of the population and primary business applications. By 2018, mobile adoption rates overall will start to slow down slightly due only to the fact that the adoption has been so rapid and incredibly widespread. Who else is left to adopt?
First, those over 55 are the only group with double-digit adoption rates projected for this year and subsequent years. These same people are still likely to own and use a desktop as their primary source of internet access, but the shift is happening.
The second avenue of growth, once mobile device usage has spread to every demographic of the population, is in the business arena. Desktop and laptop computers are still the primary source of everyday business operations for many people. In some industries this is starting to shift, in others, smartphone capabilities and technologies like virtual intelligence still have some way to go before this shift can occur.
Wrap Up
Chances are, you get to experience a dozen or more carefully crafted mobile marketing interactions every day. Some may register as helpful; others will be ignored as inconsequential. Either way, this is a part of day-to-day life as much as searching the internet has become. Mobile is going to stick around. It is heavily cemented into everyday life and businesses need to find a way to weave themselves into those daily mobile actions. Mobile experiences must be adaptable, personalised, human, and unobtrusive. If you can succeed in those areas, your marketing efforts on the mobile platform, whatever shape it takes physically, will be successful.
Related Tag: Mobile Business Apps