30 May

Real Estate Agents: The Time To Launch a Mobile App Is Now!

I often speak to estate agents in regards to launching their very own app. It seems as though there's an obvious value in the market, but putting a finger on exactly why that is, is yet to appear more obvious.

App City know there's a diamond in the rough and I'm excited to help break down the basics of how this market works, and why every real estate agent needs US to build them a mobile marketing strategy.

There are many perks to having a mobile app for those in real estate. For starters, having a mobile app can greatly improve customer service and communications for your business. Your phone number, address and email will be right at the fingertips of interested clients, and they'll be able to reach you at the touch of a button. Realtors need to be easily accessible, and with a mobile app, you're always right there.

With younger clients looking to get into the housing market, you'll want to evolve your business to cater to them. Younger customers are more likely to use smart phones and utilise mobile apps. Having this marketing tool is a strategy that will really help you to stay relevant to the ever-changing market.

Mobile business apps have a wide variety of handy tools and easy to use features that your clients will find beneficial.

You can also enable push notifications, which will alert clients as they travel to certain areas about local real estate they may be interested in. You can choose any location, and send all sorts of messages, including reminders, promotions, incentives, and more.

Agents understand the value of advertising their services; having a solid marketing strategy is non-negotiable. But, with their attention honed in on their clients, they often lack the time or resources to research new and emerging tools. Their dedicated marketing budgets are spent advertising in newspapers, magazines, and other outdated print media with fewer readers every year. In other words, their marketing strategy is wide open for digital upgrades, especially a mobile upgrade. What they truly need is an expert to advise them on it.

Cue App City.

Home buyers and sellers have a vast array of helpful tools at their disposition. Purchasing or selling a house is one of the most stressful periods of any individual's life. The consumer is often overwhelmed with data and big decisions coming at them quickly. Most of a typical real estate transaction occurs within only 21 days! Thus, a one-stop shop with accessible information to guide the consumer through the process would be extremely useful.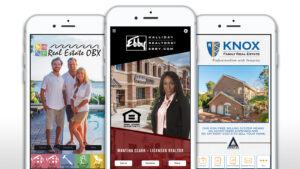 Let's start with one of the most important features: the Reviews Campaign. Reputation is EVERYTHING when it comes to real estate! Nearly two-thirds of an agents' clients found them through either personal referral or review sites such as Google, Yelp, Realtor.com, Zillow, Trulia, Redfin, and others. In fact, agents with 10 or more reviews see a 300% increase in listings versus agents with no reviews. Testimonials are some of the most important parts of an agent's marketing.
There's nothing quite like completing the sale or purchase of a home and oftentimes a client is willing to vouch for the agent and share their experience with others. Consider visibly marketing a referral program in the app itself too. Sometimes writing a simple phrase asking a consumer to tell their friends, family, and co-workers about your services will initiate that action.
Now let's get into specifics, in terms of what other amazing features we could offer in a real estate app.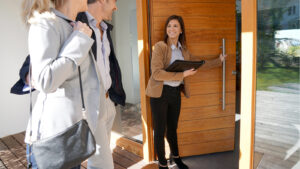 Real Estate Feature: Our real estate feature is NOT a full search tool for all homes on the market. Rather, it's a way to showcase an agent's active listings. It also displays the number of other clients and calibre of luxury listings that the agent successfully works with. This assures any prospective home sellers that yes, this listing agent "knows their stuff" and has worked their way to the top.
Image Gallery: Showcase those beautiful, high quality, and expensive real estate photos. Again, this reinforces that the agent sells high-quality homes and will provide quality photography for the seller's home.
YouTube or Website Feature: Many agents now offer video tours and interactive 3D tours, so you will want to show these in the app too.
Image Gallery, Info Tier, or PDF: Showcase how the agent invests in quality marketing for their customer. This may include samples of print ads in the paper or magazines, social media campaigns, email campaigns, print postcards etc.
Events Feature: Share the schedule of open houses and auctions, so users know what's coming up in the future.
Custom Forms:We can create custom forms such as "What's My Home Worth?" and ask for details on a potential seller's home. Listing agents LOVE to provide complimentary marketing assessments – it's a way to secure a listing appointment with a prospect. If a client meets an agent they like at an open house, they might be inclined to fill out such a custom form. It also provides an opportunity for the buyer to express what they're looking for: number of bedrooms, type of home, general location, price point, etc. as well as the client's contact information. It's an easy way to collect inbound lead information.
Contact Feature:One touch contact to make it as easy as possible for a potential buyer to contact the agent.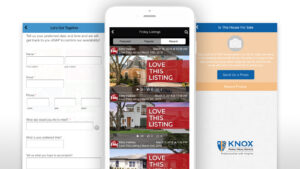 All these cool app features will help you retain your existing clients, with the app also helping you attract new ones. By having an app in the app store for Android, iPhone, etc, you will also be making your business more visible and available to potential clients. You'll have a distinct advantage over other real estate firms that do not offer mobile apps.
If you're in real estate we'd love for you to get in touch with us today.  The whole development process is more affordable and smoother than you may think.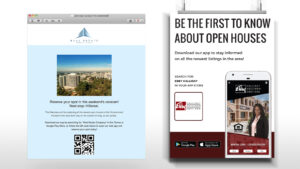 Related Tag: Mobile Apps Developers